Think Over Before You Make Over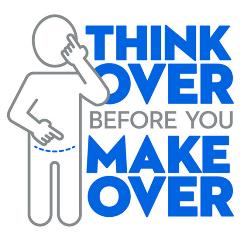 Every year thousands of people in the UK put themselves at serious risk of physical and psychological harm by undergoing bad or inappropriate surgery that could be easily avoided by asking some simple questions about their treatment.

Think Over Before You Make Over is a campaign to address the worrying lack of consumer awareness about how to choose safe and appropriate cosmetic surgery.

Led by BAPRAS, the campaign provides a comprehensive range of advice on what everyone needs to know, so that if you are choosing to have surgery, you are choosing safely. Please read our guides, act on them and share them with friends and family.

If you are a responsible surgeon or clinic, or even a supportive and influential business, we also need your support to spread the word on safer patient choices.

Find out more by clicking the links on the left and join the campaign.