What can I expect before my operation?
An anaesthetist will visit you and examine you on the ward and explain the anaesthetic procedure. You must have nothing to eat for a minimum of four to six hours and nothing to drink for a minimum of two hours before your surgery. This is for your safety, to prevent any problems during your anaesthetic.

The surgeon will see you and ask for your consent to proceed with your surgery. Preoperative photographs may be taken. The surgeon will mark the new position for the nipple in a position higher than the old, reducing the size of the areola around the nipple as well as marking the area of skin and breast tissue to be removed. It is vital that you do not wash these marks off. Please ask questions if there is anything that you are not sure about.
The surgery
The procedure usually takes about two to three hours. Techniques for breast reduction vary, but the most common procedure uses an anchor-shaped incision that circles the areola, extends downwards and follows the natural curve of the crease beneath the breast. The glandular tissue, fat and skin are removed, and the nipple and areola are moved into their new positions. The skin is brought down from both sides of the breast and around the areola, shaping the new curve of the breast. Sutures dissolve under the skin and do not need removing.

Each nipple remains attached to the breast and its blood vessels by a stalk, known as a 'pedicle'. The direction of the pedicle may vary, such as superior or inferior, but both ways preserve the blood supply to the nipple and areola.

In a small number of patients the nipples and areolas are removed completely and then grafted into a higher position. This is done if the breasts are very droopy with the nipples extremely low. It causes a permanent loss of sensation in the nipple and areola.

In some patients with good quality skin, the horizontal part of the scar may be avoided with a vertical scar breast reduction pattern, but this results in small pleats at the lower end of the vertical scar which may take some months to settle.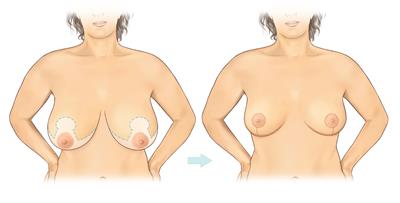 Figure 1: Anchor-shaped Scar pattern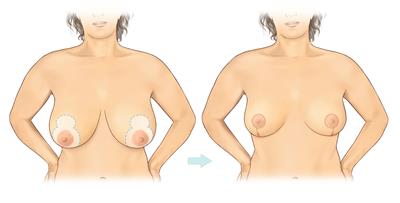 Figure 2: Vertical Scar pattern
What can I expect after the operation?

What should I look out for?

Breast firmness and tenderness before any surgery are common in women, and can relate to your monthly periods. When your breasts have healed after reduction surgery these symptoms may return. It may also take some months for scar tissue in the breasts to settle, and at first the scars may feel lumpy and tender. It is advisable to become 'breast aware' – by getting to know what your breasts look and feel like so you know what is normal for you.

When you are at home after surgery, it is important to check your wounds. If they become red, swollen, and painful, or if there is a discharge, please contact your hospital.

When should I return to the hospital for a follow-up appointment?

When you are discharged from hospital you will be given an appointment to be seen by the surgeon or nurse.
What should I do when I am at home?

Following your operation you should be able to return to most of your normal activities within two to four weeks, although this will vary from person to person. You can start with a small amount of housework and gradually build up to hoovering and ironing.

Returning to work – Depending on the type of work that you do, you may be able to return to work within two to three weeks. You may feel quite tired at first. This is quite normal.

Sport – Most sport can be resumed after two weeks. If the sport involves strenuous upper body movements – for example aerobics, running, golf, swimming and any racquet sports – then it is advisable not to return to these activities until about a month after surgery. It is essential to wear a good quality sports bra, and if possible an elasticated crop top such as Lycra® or Spandex® as well, to prevent the breasts from moving up and down, and to maintain the results from surgery.