Upcoming Webinar- Primary Hypospadias Repair
5th June 2020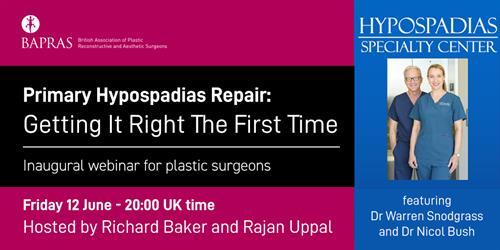 Thank you to all who have attended previous BAPRAS webinars in our COVID and Student series so far.

Next Friday (12 June) we'll be holding a one-off webinar focusing on treatment of hypospadias

This webinar will be presented by Drs Warren Snodgrass and Nicol Bush, world leaders in hypospadias surgery based in Texas. The discussion will mainly focus on distal hypospadias repairs and we will learn their strategies for getting the surgery right the first time thereby avoiding the complications that patients, families and their surgeons so dread.

Time: Friday 12 June, 20:00 (UK time)

To join: Click here to register

This webinar will be recorded and made available afterwards.

Back to list page