#ThisIsAPlasticSurgeon - Abhilash Jain
2nd March 2020

Back in 2019 we asked some of our members various questions about their careers in plastic surgery, their thoughts on innovation and what advice they may have for others, both professional and public. The resulting profiles demonstrate the diversity of the specialty and those within it.

If you are a BAPRAS member and would like to be included in this series please contact emma.brighton@bapras.org.uk.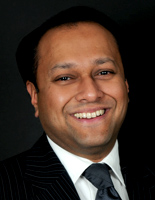 Abhilash Jain

What have been your plastic surgery career highlights and why?

Apart for the immense satisfaction I get from treating my patients clinically I have gained a lot of personal satisfaction from my research over the years. Having my research directly improve patient treatment drives me to continue trying to answer questions and "do the right thing" for patients. Recently, my work in clinical trials has resulted in a number of prestigious NIHR grants, which have allowed me to answer fundamental questions in plastic and hand surgery that will make a difference to patients globally.


Tell us about your most challenging or rewarding case

When I was a newly appointed consultant I was called to theatre to remove 40% of the damaged skin from a woman with Anthrax. At the time there had been an outbreak of injectional Anthrax in Scotland following a batch of contaminated heroin making it in to the UK. This presented as necrotising fasciitis (an infection that kills skin and soft tissue) but following treatment patients were dying. When I attended theatre to treat the supposed necrotising fasciitis, I was presented with an anaesthetised patient who appeared to be suffering from something more resembling meningococcal septicaemia (a rare form of blood poisoning). Despite huge pressure to undertake a massive life changing procedure, and knowing that the patients in Scotland died, I held my nerve and undertook a small excision of the focus of infection. The patient was then treated medically on the intensive care unit. Needless to say she survived and subsequent patients were treated the same way and lived. As a young consultant I remember having immense pressure put on me to do something that did not seem right at the time and I am pleased that I held my nerve and followed logical principles.


What one piece of advice would you give to someone starting out in their plastic surgery career?

The training is long, hard and competitive but very rewarding. No other specialty involves as much diversity. Always do the best for your patients and go above and beyond what is expected of you.


What innovation do you believe has made the biggest difference to plastic surgery as a specialism in the last century?
Since 2013 plastic surgery and hand surgery have set up a collaborative clinical research network, the RSTN, with the support of the RCS, BAPRAS and BSSH. This has resulted in large scale multi-centre studies that have bought teams together and resulted in rapid meaningful changes to patient care. This process has involved completely new innovative ways of thinking and delivering research using technology and a mind set change amongst young surgeons. Without a doubt, this will be the biggest driver for change in our specialty and has made the UK a global leader in plastic and hand surgery research.


What do you believe have been the biggest threats to patient safety in plastic surgery across this period?
The lack of regulation. The majority of cosmetic procedures are not undertaken by trained plastic surgeons and we do not have the monopoly on the title "Plastic Surgeon". Patients are misinformed and there remains a number of clinicians (not necessarily medically qualified) who continue to put patients at risk for financial gain.


Read further profiles below
- Ruth Lester
- Shehan Hettiaratchy
- Rowan Pritchard Jones
- Rebecca Dunlop
- Nora Nugent


Back to list page