Nurses Education Day
27th September 2021

In person
Royal College of Surgeons of England, London
Thursday, 2nd December 2021
Fee: £20

For the 3rd edition of the Nurses Education Day we have an exciting agenda of guest speakers sharing their innovations in practice. With this meeting we hope to give an opportunity for our nurse colleagues to engage and interact with each other.

We would be grateful if you could please share information about this event with nurse colleagues.

Abstract submission for this meeting is now open. We welcome nurses' abstracts on recent work, innovations, patient experience, research and audit.

To submit an abstract please send this completed form (the form will be downloaded once you click on the link) to secretariat@bapras.org.uk, before 5pm on 1 November 2021.

Registration for the meeting is available via the BAPRAS 75 Years registration form (click here).
Registration for this event is £20.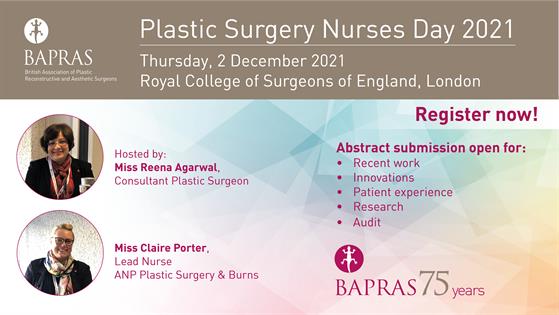 Back to list page