BAPRAS Member is lead plastic surgeon in latest separation of conjoined twins
19th July 2019
This week, the BBC has featured extensive news coverage of the separation of twins Safa and Marwa, who were born conjoined at the head. The girls were brought to Great Ormond Street Hospital from Pakistan where a 100-strong team of multiple medical specialties prepared to undergo the 3 major surgeries required to successfully separate them back in January this year.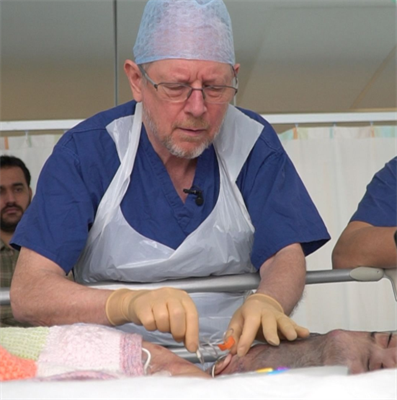 BAPRAS member Professor David Dunaway served as the lead plastic surgeon in this series of operations, tasked with the responsibility of rebuilding a new head for each of the girls, with Owase Jeelani leading the initial neurosurgical separation. This was the third set of craniopagus twins that Professor Dunaway has led the reconstruction for, the planning for which included the use of modern 3D technologies, tissue expansion and bone grafting. Fellow BAPRAS member Juling Ong was responsible for printing 3D models of the new skulls and both surgeons were supported by a further team of international plastic surgery fellows.
"I think this surgery demonstrates the principles of reconstructive plastic surgery at its best. We have used safe and traditional reconstructive techniques (ones that Sir Harold Gillies would have been familiar with) in an innovative way to achieve a remarkable result."
According to Professor Dunaway, the separation of Safa and Marwa presented a particularly difficult challenge given their slightly older than ideal age for the operation and distorted brain shape, among other elements. In the future, he hopes that such potentially damaging delays in treating children in need of the procedure. Despite this, the operation presents the latest example in the world's largest series of successful separations of craniopagus teams at GOSH led by Professor Dunaway's team.
I am very proud to highlight the pioneering work of Professor David Dunaway and the extended team at Great Ormond Street Hospital in their third successful separation of craniopagus twins. Rare procedures such as this exemplify the vital role played by modern plastic surgery and its remarkable impact in improving quality of life to the most vulnerable members of society. Professor Dunaway and Mr Ong are a credit to our specialty and we privileged to count them both as members of BAPRAS.
- BAPRAS President, Mr Mark Henley
For a detailed description of this story, you can read the BBC news piece in full here or watch the documentary airing on BBC World service at 21:30 on 20 & 21 July.
A short video is also available here



Back to list page