BAPRAS looks back - D-Day: 75 years on
6th June 2019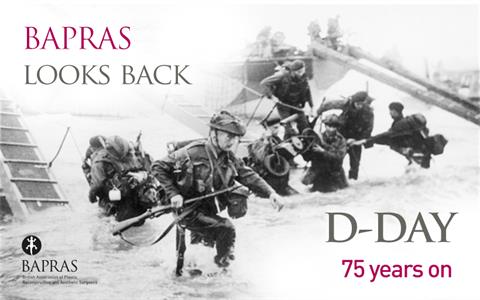 We have recently been celebrating the centenary of the cease fire of WW1, and the part which that war had played in the origins of modern plastic surgery in Great Britain. Now, 75 years on since the D-Day landings on 06 June 1944, it is an appropriate time to recall how WW2 was to be the 'catalyst' for the vast expansion of plastic surgery.
The foundations of the specialty in Britain had been laid by Harold Gillies in Aldershot in 1916, which led to the building of Queen Mary's Hospital at Sidcup which opened the following year. Here he worked very closely with his friend and dental colleague William Kelsey Fry, and later in 1919 T.P. Kilner was posted to join them. Thus, there would only be two consultant plastic surgeons in the country at the end of the war. Gillies was appointed to Bart's Hospital and Kilner to St. Thomas'.
This was a difficult time for the specialty. Plastic Surgery had not yet been accepted by the surgical fraternity, not being thought of as 'proper' surgery.
In 1931 Rainsford Mowlem and Archibald McIndoe joined the 'firm' and by doing so doubled the numbers of plastic surgeons (later to be referred to as 'The Big Four'). Subsequently there began a gradual interest in reconstructive surgery, but at the outbreak of World War II there were few trained surgeons.



Preparing for war
In 1932 an Army Advisory Standing Committee had been set up to report on the management of maxillofacial injuries. The report, published in 1935, stated that special hospitals should be designated for multidisciplinary treatment along the lines developed at Sidcup. In June 1938 the Ministry of Health assumed responsibility for the organisation of the Emergency Medical Service (EMS), with Dr John Hebb appointed as Director General. Gillies was appointed as Consultant Advisor to Ministry of Health and McIndoe became Civilian Consultant to the RAF.
Gillies argued for the formation of plastic surgery centres to receive casualties. Along with Kelsey Fry, and together working as joint advisors to MoH in advance of the war, he made plans as to how this might be accomplished. In discussion with Hebb, the roles of hospitals, the composition of the staff and the sites for these hospitals was agreed. They emphasised the need for medically qualified dental surgeons within each team.
Gillies proposed that there should be hospital bases for London, one in the North and one in the South, and, in addition, a main plastic centre similar to Sidcup. Kilner would stay on in his post at Roehampton under the control of the Ministry of Pensions, who in addition commissioned the building of a new hospital at Stoke Mandeville, which in opened in 1941.
Hill End Hospital at St Albans would cover the Northern area. This was a large mental health hospital taken over by the EMS, and where Bart's had been sited when moved out of London. The new unit would be led by Rainsford Mowlem, along with John Barron who had been his assistant before the war, and who would subsequently set up a unit at Salisbury. Hill End also had links with Birmingham Accident Unit.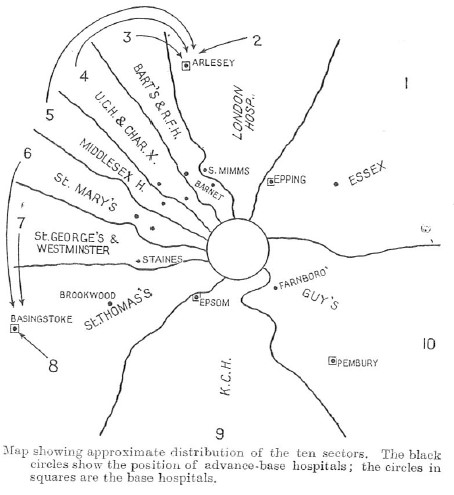 The Queen Victoria Cottage Hospital at East Grinstead had already largely fitted the criteria of the 1935 report, and in May 1939 the Ministry of Health informed the Hospital Board of management that it was included in the emergency plans and 100 extra beds were accommodated in hastily constructed huts. McIndoe duly arrived at the Hospital in the September 1939 and informed the Board that, as from 3rd, he would assume full responsibility for the running of the Hospital. As he was now the civilian consultant to RAF, the majority of air casualties were treated at East Grinstead.
Gillies would move to Park Prewitt Hospital in Basingstoke which had been designated by Hubbs as the main facial centre. Rooksdown House was the private wing within the grounds of this psychiatric hospital. The lounge was converted into operating theatres and the wings into wards and then appropriately equipped to become a fully integrated surgical unit.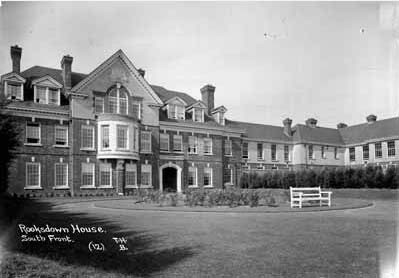 A good deal of time and effort was also put in to organise units outside London. Pre-war, Kilner had been travelled widely, working at weekends to introduce plastic surgery techniques in Manchester, Birmingham, and Stoke-on-Trent. He had also been closely associated with Wardill in Newcastle, with his particular interest in the surgery for the repair of children with cleft lips.
It was not surprising, therefore, that these were the first units to be established. In addition, after training at Rooksdown House, Emlyn Lewis was sent to Gloucester and similarly after training with Gillies during the blitz, A B Wallace returned to Scotland.



Training
Enormous numbers of surgeons would be needed to fill all the posts that were being created. There was an urgency and enthusiasm to achieve this goal, which can only be achieved by immediate need, and the threat that was being encountered. Petty squabbles about the importance of the specialty had been put aside.



At the outbreak of war there had been only two formal trainees in plastic surgery, David Matthews and Richard Battle who had assisted and learned from Gillies Kilner and McIndoe. In addition, Eric Peet in Oxford, and J.P. Reidy at Stoke Mandeville had expressed a desire to train. Percy Jayes went to East Grinstead and J. B. Cuthbert was assisting Gillies at Rooksdown.
Basingstoke and East Grinstead became the mainstays for these various periods of training attachments and led to a huge expansion in expertise. The 'visitor's book' from Rooksdown bears witness to this hive of activity. And, just as with Sidcup in WW1, this was not confined to British surgeons, visitors coming from many countries, Scandinavia, South Africa, USA, Canada, Australasia etc.




Understanding of the management of burn injuries was at best rudimentary at this time, and McIndoe created RAF units at Halton, Cosford, Ely, and Rauceby, first and foremost as burn centres. Each was led by surgeons who had undergone either the 'long' or 'short' courses with him at East Grinstead.



It was at RAF Halton that Matthews wrote 'The Surgery of Repair – Injuries and Burns' in 1943. Whilst Gillies had published "Plastic Surgery of the Face' in 1920, this book is arguably the first 'Plastic Surgical Manual' to be published in English, covering all aspects of wound management, skin cover, and he devoted a significant part of the book as a treatise on burn management. Also at Halton was Dennis Bodenham who whilst in charge of the burn unit was instrumental into the research on the uses of penicillin in burns management. In addition, he developed an interest in Bunyan's hypochlorite solution management for burns, leading to the development of Bunyan-Stannard 'bags', later used both by the Navy and RAF as first line treatment.
An Army directive of 12th September 1939 was issued to form a Maxillofacial Unit, and R V J Battle was sent with the British Expeditionary Force to France. He subsequently became advisor to General John Weddell who with Gillies formulated plans to set up and train a number of similar army units comprising surgeons, dentists, anaesthetists, nursing staff and orderlies. All were to be trained as teams at Rooksdown.



British Expeditionary Force (1939-40) Dieppe: R J V Battle; P Wren (dental) Boulogne: C L Heanley; G T Hankey (dental)
Unit No. I (Middle East Forces (Alexandria). Tripoli, Sicily, Italy)R Champion (I940-43)R S Murley (1941-44)R J V Battle (1943-45)R P G Sandon (1944-45) Dental: E J Dalling (1940-45) B V Janes (1943-45) J F'Lockwood (1945)
Unit No.2 (Middle East Forces (Cairo» M C Oldfield (1940-43)M Shaw (1943---45)Dental: W R Roberts (1940-45)
Unit No.3 (Far East, India, Burma) C L Heanley (1942---45)Dental: J H Hovell (1942---45) R SPook (1940-45)
Unit No.4 (North Africa, Italy, Normandy) P Clarkson (1942---45)R Laurie (1943-45)Dental: T H Wilson (1942---45) (d.o.a.s.)
Unit No 5 (Normandy, Germany) G M Fitzgibbon (1944-45)T Gibson (1944-45)Dental: N H Holland (1944-45) Unit No.6 (France, Belgium) W Hynes (1944-45) WCowell(1944-45)Dental: W B Hales (1944-45)
Indian Unit No.1 F W Pickard (Canada) (1943-45) T Gibson (1945---46)Dental: N Thompson (1943-45)
Indian Unit No.2 E Peet (1943-45)
Lone Ranger (India): H E Blake (1942---43)
Ad hoc Unit (ltaly)A Smith-Walker (1944-45) Dental: Hribajevsky(1944-45)
R Grewcock (1944-45)
D-Day

It was MFSU 5 which went on to the beaches at D-Day and casualties were being sent back within 12 hours of landing.



'The first man back from D-Day was a sergeant who had gone in ahead to demine the beach and cut any wire not already broken by bombardment. Shot in the face while in the water, he was dragged to shore and arrived at Rooksdown the next day.'



'After D-Day there was a constant stream of casualties'


'The wounded usually arrived in small groups but there were occasions like the memorable night in July 1944, when a minesweeper had just picked up the survivors of another minesweeper struck a mine itself. At 1 am 21 acute burn injuries arrived.'… 'the 8 am shift could begin the burns toilet'



(extracts from Principles and Art of Plastic Surgery: Gillies and Millard 1957)



With the opening of the new hutted hospital in 1941, Kilner moved to at Stoke Mandeville as Roehampton had been felt to be too close to London. 1942 saw casualties from Dieppe raid occupying two overcrowded wards with 40 beds in each. In addition, they received convoys of civilian casualties from the Blitz.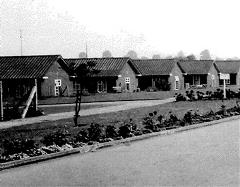 Similar scenarios were seen in several other units. Manchester notes that large numbers of battle casualties were referred to the Unit for treatment after D-Day. Most of the service casualties which Gloucester received were from the D-Day landings. Gloucester was to be split between Bristol and Chepstow, where old TB hospitals had been taken over by the military in 1942, but it would not be until 1950 that the first cases were transferred there.



Birth of the British Association of Plastic Surgeons
D-Day did, however, have one negative effect on British Plastic Surgery. In February 1944 a clinical conference was held at Hill End, instigated by the microbiologists, to discuss the appropriate use of penicillin in war injuries. Some 24 surgeons were present and after lunch, Gillies asked, "What do you chaps think about forming a plastic club?" The resulting committee set up to develop the idea met in Gloucester on April 23rd//24th. Inevitably there were significant discussions, but a final draft of the Constitution was ratified at a meeting in Harley Street on May 20th. This was to have been presented at the proposed general meeting to be held in Basingstoke in June 1944. The chosen date for the allied invasion, however, meant that the project was inevitably put on hold, and it was not until a meeting, held in London at the Royal College of Surgeons on November 20th 1946, that the proposed Constitution was accepted by the 40 surgeons present and that the British Association of Plastic Surgeons was formed.
It was the men who had trained at these centres who would subsequently become the newly appointed plastic surgeons when the NHS was founded in 1948. They, in turn, would train the next tranche of surgeons and so forth, such that the specialty flourished and has become the vitally important specialty that it is today.
"… he who desires to practice surgery must go to war"
Hippocrates (460 – 377 BC)

Compiled with reference to papers held at the BAPRAS Archives by Honorary Archivist Roger Green
Back to list page