BAPRAS archive collection featured in exhibition at the Henry Moore Institute
25th July 2016
Last week saw the opening of a new exhibition inspired by the sculptural nature of prosthesis. Featuring prominently in the publicity for the show is one of the amazing objects held in the archives of BAPRAS: A prosthetic mask of the type produced to cover a facial injury sustained on the battlefields of the First World War.

The metal facial prosthesis features alongside other prosthetics and work by artists who directly address the relationship between sculpture and prosthetics. The mask is attributed to Anna Coleman Ladd (1878-1939) and was made in France between 1917 and 1920. It is made up of a piece of galvanised copper that has been moulded to form the shape of the left cheek and the bridge of the nose. The clear glass spectacles held the prosthesis in place. It was beautifully painted in naturalistic flesh tones which were matched specifically to the wearer.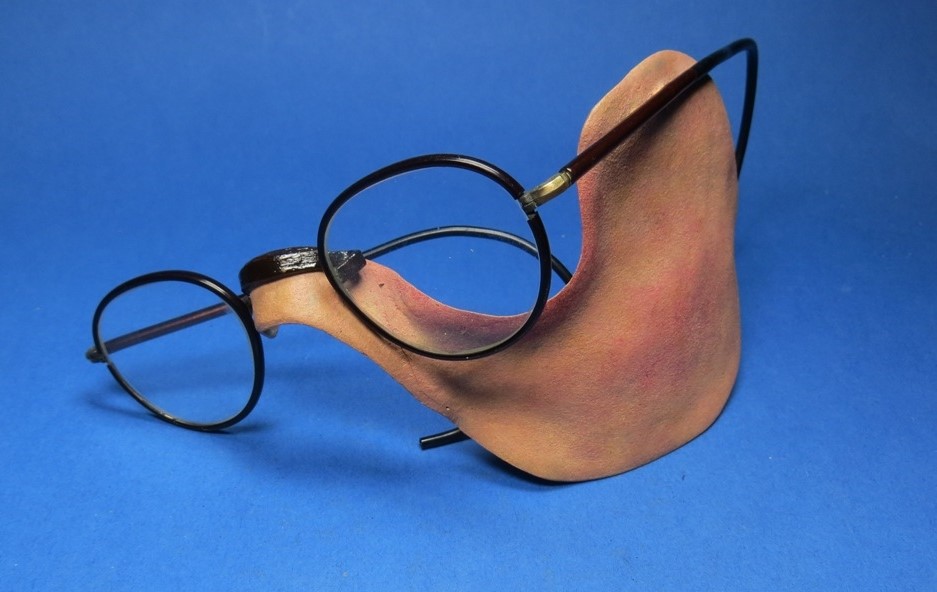 American sculptor Anna Coleman Ladd established her Studio for Portrait Masks, administered by the American Red Cross, in Paris in 1917 to provide facial prosthesis for disfigured soldiers in the First World War. No information is known on the former owner of the mask, except that they were American and had the mask made for them in Paris during the War.


If you want more information about the archive or the mask please contact rneave@rceng.ac.uk

Exhibition web site: https://www.henry-moore.org/hmi/exhibitions/the-body-extended-sculpture-and-prosthetics

The exhibition continues until 23 October 2016
Back to list page