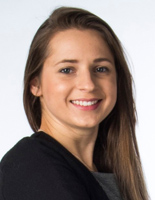 Year of Qualification
2010

Current Position
• Plastic and Reconstructive Surgery Registrar, Welsh Clinical Academic Track (WCAT) Trainee, The Welsh Centre for Burns and Plastic Surgery
• MRC Clinical Research Training Fellow and Academic Clinical Lecturer, ReconRegen Research Group, Swansea University Medical School



Alma Mater and Career to Date
After reading medicine at Pembroke College, University of Cambridge I commenced foundation training in North West Thames Deanery. I gained MRCS in 2012 and completed core surgical training in London Deanery. I was appointed as the WCAT Specialist Registrar at The Welsh Centre for Burns and Plastic Surgery in 2014, where I joined the ReconRegen Research Group, headed by Professor Iain Whitaker.

The Norman Capener Travelling Fellowship allowed me to undertake 3D bioprinting training at Utrecht University. I was able to collect significant data during my Royal College of Surgeons Research Fellowship to gain a prestigious Clinical Research Training Fellowship from the Medical Research Council in 2015 to undertake my doctoral studies at Swansea University focusing on cartilage 3D bioprinting for head and neck reconstruction. This research has been recognised for innovation through the GDST Emerging Talent in Technology Award and the RCS Cutler's Surgical Prize. The BAPRAS Pump Priming Fund for Consumables in 2016 allowed further development of novel bioinks. More recently I was awarded an RCS Fulbright Scholarship to undertake a postdoctoral fellowship at the Wyss Institute of Biologically Inspired Engineering, Harvard University.

When did you decide to get involved in research and why?
My passion for research stems from my BA degree in Pharmacology at Cambridge University where I enjoyed the challenge of applying scientific methodology to answer key questions. I continued to undertake clinical research alongside surgical training, with several projects focusing on donor site morbidity following free flap harvest. It was the opportunity to be able to address this clinical problem through laboratory based research in the translational field of tissue engineering that inspired me to apply for clinical academic training in Wales. Creating functional and durable tissue in the lab has the potential to shift the paradigm in reconstructive surgery by obviating the need for donor sites. During my PhD, I have been fortunate in having the opportunity to combine basic science research with NISCHR clinical trial involvement, providing me with real experience of bench to bedside research. This has highlighted that being involved with innovations in patient care would be something I would value throughout my career.

What is your area of research interest?
• Translational tissue engineering
• 3D bioprinting
• Clinical trials
• Clinical research in reconstructive surgery

How have you managed to combine clinical work with research?
As a WCAT Trainee and MRC Clinical Research Training Fellow, I am funded to undertake 80% academic time and 20% clinical time during my doctoral studies and will be in a position to continue research post PhD with 20% academic time during the rest of my clinical training. I have also been fortunate to have excellent support and mentorship from seniors in the department.

What have been the sources of your research funding?
• Medical Research Council
• RCS Fulbright Scholarship
• BAPRAS Pump Priming Fund for Consumables
• Welsh Assembly Government
• NISCHR (Activity Based funding)
• RCS Research Fellowship
• RCS Cutler's Surgical Prize
• Ethicon Travelling Bursary
• GDST Emerging Talent in Technology Award
• Norman Capener Travelling Fellowship

What are the benefits and challenges of being a clinical academic?
Benefits: The opportunity to respond to challenges in the specialty and potential to influence its future, collaborating with scientists to make contributions to innovations in patient care, working on exciting projects and building on novel ideas, developing a field of expertise, bridging the clinical and academic divide.

Challenges: The constant juggling act!