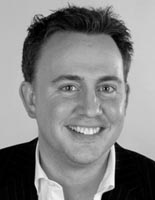 Year of qualification
2001

Current position
• Chair of Plastic & Reconstructive Surgery, Swansea University College of Medicine
• Honorary Consultant Plastic Surgeon, The Welsh Centre for Burns & Plastic Surgery

Career to Date
After reading medicine at Trinity Hall, I completed a sub-internship in plastic surgery at Harvard Medical School which really inspired my interest in plastic surgery. Since my house officer post in Cambridge, I maintained an interest in becoming an academic plastic surgeon, and over the years during full time clinical training developed a significant publication track record in the areas of reconstructive and trauma surgery. For several years I have been involved in international multi-disciplinary collaborations with Uppsala, Utrecht, Louisville, Connecticut & Melbourne culminating in the award of a PhD and over 150 publications (>1100 citations / Hirsch Index = 20) and several books.

When did you decide to get involved in research and why?
I decided to get involved in research as a medical student, and was especially motivated to do so during my sub-internship at Harvard Medical School, and published two small papers during this elective period. I decided to get involved due to intrinsic interest in the development of the speciality, the potential to influence the future and the academic challenge. I was passionate about a career in plastic surgery, and this was also a pre-requisite for entry to the speciality. I always planned to develop my area of research interest later in my career, when I had more experience of the specialty, and the landscape has changed so much in just a decade. The exciting areas of regenerative medicine and composite tissue allotransplantation were relatively unknown to plastic surgeons at the turn of the millennium.

What is your area of research interest?
My research interest is regenerative medicine and more recently the increasing importance of new industrial convergence and the applications of nanotechnology in healthcare. There are strong links with the Centre for Nano-health, the leading European Institution for nanotechnology related health research, and the Institute of Life Sciences. There are also plans for a multi-million pound funded Centre of Innovation for Wound Technology which will likely provide funded research opportunities for plastic surgery trainees in the near future. The role of adipocyte derived stem cells in scar modulation, and implications in wound healing will be a focus.

The secondary line of research is in haemo-rheology and implications in microvascular surgery and burn injury.

I supervise PhD, MD and MSc candidates, on a range projects including:
• Isolation and Delivery of Adipose-derived Stem Cells in 3D Nanocomposite Polymer Scaffolds for Adipose Tissue Regeneration.
• Tissue engineering of auricular cartilage constructs using tissue specific constructs and 3D bioprinting.
• Viscoelastic properties of blood measured via fractal analysis and gel point: the effect of burn injury.

How have you managed to combine clinical work with research?
Time management and hard work. It is hugely time intensive and takes a great amount of dedication to continue to perform research, write and submit papers and apply for grants and awards. It is very important to maintain strong clinical interest and skills – at the end of the day we are primarily surgeons. Our research interests and achievements are a vehicle to deliver optimal patient care and improve outcomes. By necessity all my research activity during training was 'out of hours.' Since appointment to a Chair, I have dedicated University Sessions, however these are very quickly filled with meetings, steering groups, lab work, grant applications, paper writing / editing / reviewing etc…

What have been the sources of your research funding?
Royal College of Surgeons of Glasgow
Royal Australasian College of Surgeons
British Association of Plastic, Reconstructive and Aesthetic Surgeons
British Association of Surgical Oncologists
University of Utrecht
U.S. National Science Foundation
Commercial Bodies and Charities
NIH (USA)
Swansea University
Welsh Assembly Government
NISCHR
FP7 (European funds)

What are the benefits and challenges of being a clinical academic?
Benefits: Varied workload, huge challenges and stimulation, dissemination and accumulation of novel ideas in order to deliver the best clinical care to patients. Significant autonomy at Chair level, influence over the big picture, and important role in training of junior staff. Collaborations with international units gives great life experiences, good friends and keeping your practice world class. Potential to positively influence treatment options for patients.

Challenges: Time. Multiple never ending deadlines. Balancing top level research and delivery of clinical care. Obtaining funds in a niche specialty to achieve sustainability in the current economic climate.

What advice would you give to a trainee thinking about an academic career in plastic surgery?
Start Early. Be committed. Take setbacks in your stride and work to the future. Don't let others put you off. Ask advice from people you admire and trust. Get an academic mentor and listen to people who have achieved what you aspire to. Have your own ideas – and act on them. Be proactive and produce promptly. Never fail to do something you say you will. Always keep to deadlines. Believe in yourself. It is possible to enjoy your life and be successful in improving patient care through translational research. There has never been a better time to embark on an academic career in surgery. There are now set pathways (ACLs in England and WCAT in Wales) which provide a fast track and guidance. The areas of regenerative medicine, nanotechnology and composite tissue allotransplantation are exciting new areas of plastic surgical research which were not around when I started training.

I love my job and would support anyone who aspires to the same career path.