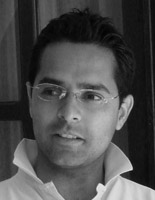 Year of qualification
MBBS 2001

Current position
Clinical Academic Lecturer (CAL) in plastic and reconstructive surgery

Career to date
1998: BSc (Hons) - Guy's Hospital London (UMDS)
1995-2001: MBBS - Guy's Kings & St.Thomas' Hospital Medical School)
2004: MRCS - Royal College of Surgeon, England
2005-2006: Senior SHO in Plastic & Reconstructive Surgery
2006-2010: PhD - Kennedy institute of Rheumatology, Imperial College London
2010-current: Clinical Academic Lecturer, Plastic & Reconstructive Surgery

Why did you decide to get involved in research?
As a junior surgical trainee I wanted to gain experience in formal scientific research and to work on a project with translational output. Whilst a plastic surgery SHO I was offered an exciting project under the supervision of Professor Jagdeep Nanchahal at the Kennedy Institute of Rheumatology. This was at a time when research degrees were being discouraged. Now I have expertise in working at the interface between plastic and reconstructive surgery and basic science research

What is your area of research interest?
My research is based on Dupuytren's disease. I have set-up robust methodology to analyse the myofibroblast phenotype and better understand the pathogenesis underlying this disabling condition of the hand. I have experience in biomolecular research methodology and cytokine biology. My current research is focused on a new molecular target with the potential to slow progression of Dupuytren's contracture.

How have you managed to combine clinical work with research?
Dual training means that I have to commit a significant amount of personal time to fulfil both my research and academic commitments. However, I enjoy the complimentary clinical and academic roles. As a CAL trainee I have the option of taking structured time-out for research.

What have been the sources of your research funding?
The Healing Foundation/BSSH Fellowship (2007-2010)
The Kennedy Institute of Rheumatology Trustees Fellowship (2006-2010)
Hammersmith Hospitals Trustees Research Grant (2007)

What are the benefits and challenges of being a clinical academic?
My main challenge is to get fully trained in plastic surgery whilst continuing to develop my research and laboratory skills. The benefit of being a clinical academic is that I can continue to pursue my research interests which I have developed over the last 4 years and work at the interface between basic science and surgery with the aim of developing translational output.

What advice would you give to a trainee thinking about an academic career in plastic surgery?
Based on my experience I would suggest a formal research degree in the earlier years of surgical training and thereafter aim to maintain constant academic output. The CAL provides this opportunity in a structured manner and will allow a specialist registrar to pursue surgical training to the best of their abilities.