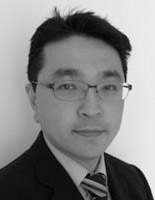 Year of qualification
1997

Current position
Academic clinical lecturer in plastic and reconstructive surgery, University of East Anglia/Norwich Medical School

Career to date
After graduating from Edinburgh University, I moved away to undertake pre-registration house jobs at St James's University Hospital in Leeds, before completing the Glasgow Royal Infirmary BST. I was fortunate to rotate through plastic surgery at Canniesburn Hospital and this attachment stimulated my interest in the specialty.

I was then awarded a fully funded PhD studentship at one of the world's premier cancer institutes: The Ludwig Institute for Cancer Research UCL branch, to look at in vivo models of cancer which I completed in Sept. 2005. I was awarded the "Young Scientist Award for Translational Research" by the European Association of Cancer Research. During my PhD I also had the opportunity to explore my interest in psychology completing a Masters degree through the Open University. I subsequently gained a clinical NTN in the Eastern deanery that I subsequently converted to an academic NTN two years later when I started my lectureship.

Presently, I am a Clinical Lecturer at the Biomedical Research Centre, University of East Anglia and also faculty at Norwich Medical School. After successfully completing the FRCS(Plast) examination in March 2012 I will undertake a melanoma and surgical oncology fellowship in Sydney and a microsurgical fellowship in Seoul, South Korea. I have been awarded the Poche fellowship by the Sydney Melanoma Unit to carry out a year post-CCT fellowship. My microsurgical fellowship will be under the supervision of Professor Jeong Tae Kim in Seoul, South Korea supported by a BAPRAS Travelling Bursary.

Why did you decide to get involved in research?
I developed an interest in cancer research during my BST following a lecture on cancer angiogenesis by Judah Folkman. The mechanism of cancer growth, signaling, invasion and metastasis was fascinating and I wanted to undertake a substantial period of research to study these aspects. I had decided not to intercalate during my undergraduate training and so had absolutely no research experience before embarking on a PhD degree. The three years of full-time laboratory based research provided me with many skills and most importantly a strong fundamental base on which to pursue an academic career.

What is your area of research interest?
My main interests lie in cancer research in particular the molecular biology of tumour-stromal interactions, 3D cancer models, invasion and metastasis. More specifically, I am interested in the mechanism of malignant melanoma invasion and metastasis. Matrix metalloproteinases (MMPs) have been shown to have an integral role in promoting invasion and subsequent metastasis of melanoma. By profiling MMP expression in a large defined series of patients with known pathological and clinical data I wanted to develop a more accurate and reliable diagnostic, predictive and prognostic indicator, as well as a follow-up marker for the early detection of metastasis and efficacy of therapy. This translational research could then be used to tailor individual treatment.

How have you managed to combine clinical work with research?
Being in a slightly different position to new style ACLs or CALs, I also have set teaching commitments through the Norwich Medical School. Balancing clinical training, research and university teaching commitments has been a struggle at times but also very rewarding.

In an attempt to perform all three components of my lectureship I decided to undertake the research and teaching in conjunction with postgraduate students. Presently I am principal investigator and primary supervisor to two MD and one PhD degree projects. A semi-supervisory role has allowed me to pursue and develop my teaching interests. During my lectureship I have had the opportunity to complete a Masters of Arts degree in Education and also gain Fellow status with the Higher Education Academy (HEA) and Academy of Medical educators (AOME).

What have been the sources of your research funding?
Grant from Biomedical Research Centre, University East Anglia & Norwich Medical School
Grant from Norfolk & Norwich University Hospital

What are the benefits and challenges of being a clinical academic?
Benefits: Intellectually stimulating, interesting variety of work, flexibility and opportunities outside clinical medicine

Challenges: Loss of job security, juggling two or more jobs, stress of deadlines, grant applications, pressure to obtain results, continue publishing and alienation from peers

What advice would you give to a trainee thinking about an academic career in plastic surgery?
There has never been a better time to start academic training. The drive for academic training in recent years with the formalization of training pathways and introduction of ACFs and ACLs has meant it is much easier to get started. Being a clinical academic involves significant constraints both on clinical training and personal life. Therefore, one has to be fully committed to be a clinical academic particularly in a specialty such as plastic surgery where the infrastructure is still developing. The greatest piece of advice I could give is that it is essential to select a supportive supervisor and, if at all possible, be part of a well established local research infrastructure. Starting a lectureship once you have reached a certain level of clinical competence is also advised.