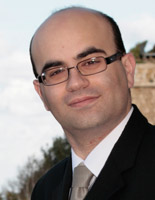 Year of qualification
​2004

Current position
• WCAT Clinical Academic Specialist registrar, The Welsh Centre for Burns and Plastic Surgery.
• Honorary Senior Clinical Lecturer in Plastic Surgery, the Reconstructive and Regenerative Medicine Group, Institute of Life Science, Swansea University.

Career to date
After qualifying in Malta in 2004, and undertaking internship and subinternships on the continent, I completed basic surgical training within the Oxford and Welsh Schools of Surgery, during which time I read for a Masters in Surgery, simultaneously sitting for MRCS. My PhD was conferred with no corrections from Cardiff University. I am currently completing my clinical training within the WCAT program, which allows an excellent integration of clinical training with academic progression. I was recently appointed as honorary clinical senior lecturer to Professor Iain S Whitaker at Swansea University. During my training I have been fortunate in winning several awards for my research including The Jackson Prize (British Burns Association), and The James Syme Medal (Royal College of Surgeons of Edinburgh).

Why did you decide to get involved i research?
I was enamoured with research in my formative years as an undergraduate, taking this to successive levels over time. Research is often described as a roller-coaster ride, and indeed the thrill of the chase is a substantial motivator. More so, however, is the potential to effect tangible change in people's well-being.

What is your area of research interest?
Drug development (nanomedicines), polymer therapeutics and burn infection.

How have you managed to combine clinical work with research?
Being a clinical academic involves considerable self-discipline, a fine balance of clinical commitment with solid academic progression. Clinical academic trainees across the board are often under pressure to produce tangibly compared to their full time clinical colleagues. I have been greatly fortunate in having excellent support from a supportive family, training program director and Chair of plastic surgery. Academic work, if taken properly, necessitates substantial amounts of work, often intangible, un-noticed and done after hours. Therefore the importance of researching an area which is of personal motivation and interest cannot be overstated.

What have been the sources of your research funding?
Within the progression of my academic career, I have successfully obtained incremental funding at various levels from competitive bursaries to national and international funding streams. These comprise of university grants (Cardiff and Swansea Universities), regional (WCAT), intergovernmental funding and European (ESF) level scholarships, and more recently, professional bodies including the Royal College of Surgeons in Edinburgh.

What are the benefits and challenges of being a clinical academic?
There is no greater reward than working hard for a job worth doing. Being trained as an academic affords the privilege of independent enquiry, self-motivation and satisfaction of developing a level of expertise in a specialism. I would caution that the pathway is long, and challenging, albeit rewarding.

What advice would you give to a trainee thinking about an academic career in plastic surgery?
Clinical academic plastic surgery does entail significant commitment which goes above and beyond, therefore the interested individual should reflect about the challenges and rewards of this career-determining commitment. It is augured that these reflections inspire an interest in this field. An academic career in plastic surgery is an immensely rewarding profession, and I thoroughly encourage it.